Are you looking for the best healthy kale salad recipe?
Kale salads are a great way to enjoy the nutritional benefits of kale while incorporating other delicious ingredients. Kale salads are not only nutritious but also versatile. Feel free to experiment with different combinations of vegetables, cheeses, nuts and dressings to create a kale salad that suits your taste preferences. Keep the components balanced to ensure a variety of flavors and textures in every bite. If you are looking to serve your kale salad as a meal, you can add your choice of protein. Feel free to get creative with your ingredients. Don't be afraid to try new combinations. Always use fresh, high-quality ingredients for the best tasting kale salads. Here's a guide to making a tasty kale salad:
(Scroll to the bottom for the best kale salad recipe)
Ingredients
Kale: Choose fresh kale leaves, preferably Lacinato (also known as Dinosaur Kale) or curly kale. Remove the tough stems and chop the leaves into bite-sized pieces.
Vegetables: Add a variety of colorful vegetables. Cherry tomatoes, bell peppers, carrots, red onions, and cucumbers work well.
Protein: If you are looking to serve your kale salad as a meal, consider adding protein sources such as grilled chicken, chickpeas, quinoa, or tofu.
Cheese: For an extra layer of flavor, include crumbled feta, grated Parmesan, or goat cheese.
Nuts and Seeds: Walnuts, almonds, sunflower seeds, or pumpkin seeds are a great addition to kale salads and can provide crunch and healthy fats.
Dressing: Choose a dressing that complements the robust flavor of kale. Lemon vinaigrette, tahini dressing, or balsamic vinaigrette work nicely with kale salads.
Steps
Prepare the Kale: Wash the kale leaves thoroughly and remove the stems. Dry Kale.
Massage the Kale: This step is crucial for tenderizing the kale and reducing its bitterness. Place the chopped kale in a large bowl and drizzle with a bit of olive oil. Use your hands to gently massage the kale leaves for a few minutes until they become darker in color and more tender. Chop the greens into bite-sized pieces.
Add Vegetables and Protein: Add your chosen vegetables and protein sources to the bowl.
Cheese and Crunch: Sprinkle cheese and nuts or seeds over the salad for added texture and flavor.
Dressing: Drizzle the dressing over the salad. Remember, a little goes a long way. You can either toss the salad to evenly distribute the dressing or serve it on the side.
Taste and Adjust: Taste the salad and adjust the seasoning, adding more dressing, salt, or pepper as desired.
Let It Rest: Let the salad sit for a few minutes after adding the dressing. This allows the flavors to meld and the kale to continue softening. (only add dressing to the portion that you will be serving at the time)
Serve
Once the salad has rested, give it a final toss and serve.
Tips
Keep the components balanced to ensure a variety of flavors and textures in every bite.
Feel free to get creative with your ingredients. Don't be afraid to try new combinations.
Use fresh, high-quality ingredients for the best results.
Prepping ingredients in advance can save time, especially if you want to enjoy salads regularly.
Remember, making salads is about personal preference, so feel free to adjust the ingredients and proportions to suit your taste. Enjoy your delicious and nutritious creations!
---
Here are some kitchen items that will help to make your kale salad prep and serving easier: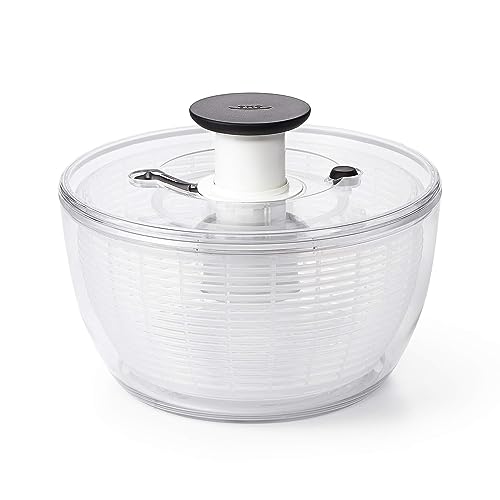 Salad Spinner
Easy, one handed operation with patented pump mechanism and brake button. Soft, non slip knob locks down for storage, and a non slip ring and wide base keep bowl steady on countertop. Elegant, clear bowl is perfect for serving, and basket can be used separately as a colander. Clear, flat lid allows for convenient stacking when not in use, disassembles for easy cleaning, and parts are top rack dishwasher safe and BPA Free. Capacity 6.22 Qt bowl, 4.95 Qt basket, Dimensions 10.5 inch x 10.5 inch x 6 inch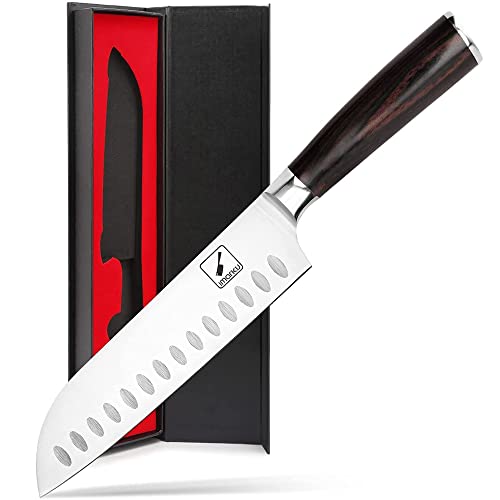 Chef Knife
This Imarku 7 inches santoku knife is designed for professionals who include chefs, culinary experts, food caterers as well as and ordinary people. It is a multipurpose knife that is ideal for various tasks which include cutting, chopping, dicing and slicing vegetables, fruits, fish, meat and other products. This santoku knife will help you with all your kitchen tasks and alleviate all your concerns.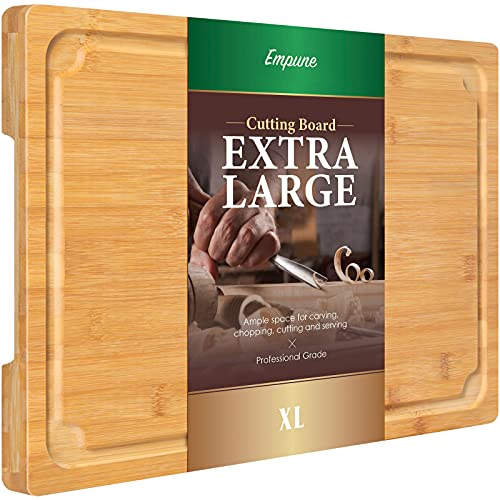 Cutting Board
A good chopping board is essential to any home chef. You can keep this Empune cutting board in your kitchen for different types of food prep. In addition to being a prep board, the conveniently built-in side handles allow easy carrying which doubles the chopping board as a serving tray for cheese, bread, etc.!
Cheese Grater
Four different surfaces to meet your different needs: cheese grater features 3 grating surfaces and 1 slicing blade. Stainless Steel: sharp and high quality stainless steel blades on all 4 sides of the grater help grate, shred, zest and slice your foods quicker.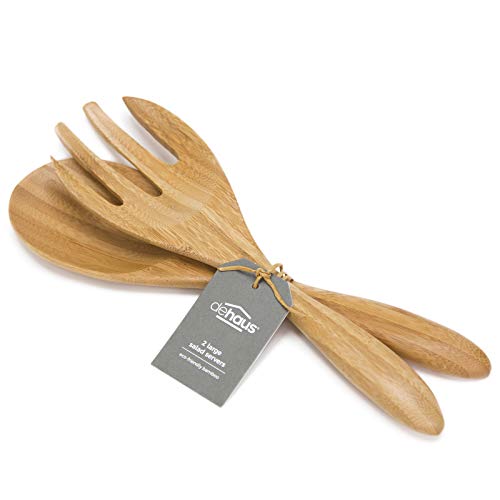 Serving Utensils
Measuring 12 inches x 3.3 inches, our wooden serving spoons are larger than many other tongs on the market so make perfect tableware for large families or for serving salad, pasta or fruit at dinner parties. Bamboo is one of the strongest materials on earth which makes our wooden salad tossers incredibly tough & durable. The serving utensils are also very easy to clean & perfect for everyday use. Our premium salad tosser sets are nicely presented as a fork & spoon pair bound together with a straw tie and product tag, so they make a great home or flatware gift idea for friends and family.
Serving Bowls
Great serving bowls for salads or pasta. The style is versatile and visually appealing enough to make the food stand out on a table.
Diameter: 9.75 inches, Capacity: 3.2 quarts
DOWAN insists on using the top grade porcelain, Lead-free, and cadmium-free. Large salad bowls are wash easily. Dishwasher/ microwave/ oven/ refrigerator safe.
Dining Bowls
Exceptionally durable materials combine with a simple yet elegant design, making it the choice tableware of fine restaurants and home. The serve bowls feature a subtle curved edge and a smooth glaze finish, which can accommodate a wide range of side dishes. Microwave and dishwasher safe, set of 6 bowls.
---
Kale Salad with Champagne Vinaigrette
Ingredients:
1 large bundle of Kale
1 1/2 cups dried Cranberries
1 1/2 cups Slivered Almonds
1 1/2 cups Parmesan Cheese
Champagne Vinaigrette
Directions:
Wash kale thoroughly, spin dry. Lightly drizzle with olive oil and massage kale leaves to soften.
Chop kale into bite size pieces.
Mix Kale, Cranberries, Almonds and Parmesan together.
Toss with desired amount of dressing before serving.
Notes:
This kale salad will stay fresh for a day after being tossed with dressing, it will keep all week in the refrigerator if dressing is not added. I use Girard's Champagne Vinaigrette.