Homemade Blueberry pie is a classic American dessert made by baking a pastry crust filled with fresh or frozen blueberries, sugar, and spices.
Homemade blueberry pie is a delicious dessert that's perfect for showcasing the sweet and juicy flavors of fresh blueberries. Here's a basic recipe for making a classic homemade blueberry pie:
Ingredients:
For the pie crust:
2 1/2 cups all-purpose flour
1 teaspoon salt
1 cup (2 sticks) unsalted butter, cold and cubed
6-8 tablespoons ice water or cold milk
(This crust recipe makes enough for a double 9 inch crust.)
See tips for baking the best pie crust here:
For the Homemade Blueberry pie filling:
4 cups fresh blueberries, washed and drained (if using frozen, toss blueberries with 2 T flour first)
1 cup granulated sugar
1/4 cup cornstarch
1/2 teaspoon lemon zest
1 tablespoon lemon juice
1/4 teaspoon salt
1 tablespoon unsalted butter (for dotting)
Prepare the Pie Crust:
In a large mixing bowl, combine the flour, salt, and sugar.
Add the cold, cubed butter and use a pastry cutter or your hands to mix until the mixture resembles coarse crumbs.
Gradually add ice water, one tablespoon at a time, and mix until the dough comes together. Be careful not to overwork the dough.
Divide the dough into two equal portions, shape them into disks, wrap in plastic wrap, and refrigerate for at least 30 minutes.
Make the Blueberry Filling:
In a large mixing bowl, combine the blueberries, granulated sugar, cornstarch, lemon zest, lemon juice, and salt. Gently toss to coat the blueberries evenly.
Preheat the oven to 425°F (220°C).
Roll Out the Pie Crust:
On a floured surface, roll out one of the dough disks into a circle that's large enough to line a 9-inch pie pan. Place the rolled-out crust into the pie pan and trim any excess dough hanging over the edges.
Add the Blueberry Filling:
Pour the blueberry filling into the prepared pie crust.
Dot with Butter:
Dot the top of the blueberry filling with small pieces of butter.
Roll Out the Top Crust:
Roll out the second dough disk into a circle, slightly larger than the diameter of the pie pan.
Create the Top Crust:
You can either place the second crust on top of the pie as a whole and crimp the edges to seal, or you can cut the crust into strips and create a lattice pattern on top.
Bake:
Place the pie on a baking sheet (to catch any drips) and bake in the preheated oven for about 45-50 minutes, or until the crust is golden brown, and the filling is bubbly.
Cool:

Allow the pie to cool completely on a wire rack before serving. This helps the filling set.

Serve:

Slice and serve your homemade blueberry pie with a scoop of vanilla ice cream or a dollop of whipped cream, if desired.
Enjoy your delicious homemade blueberry pie!
Here are some items that can help with making the best homemade blueberry pie: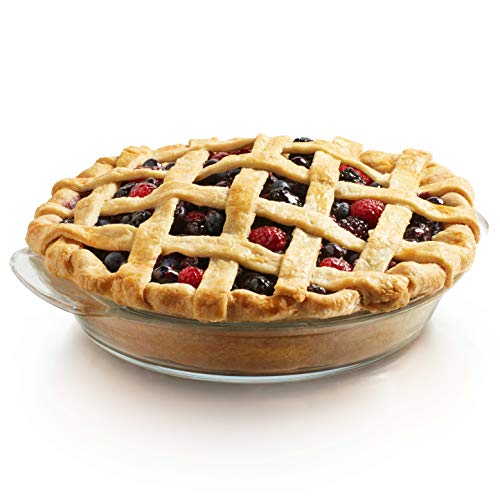 Revolutionary glass construction makes these versatile 1.4-quart deep pie plates safe for oven, microwave, refrigerator, and freezer; clear glass lets you monitor baking, serve your creation in style, and see inside while stored
Only stackable bakeware on the market
Includes 2, 9-inch by 1.6-inch glass deep pie plates
Lead-free
Extremely durable and dishwasher safe for quick, easy cleanup; to help preserve your products, please refer to the Libbey website for care and handling instructions
Baker's Premium 2-Piece Glass Pie Plate Set (9-inch)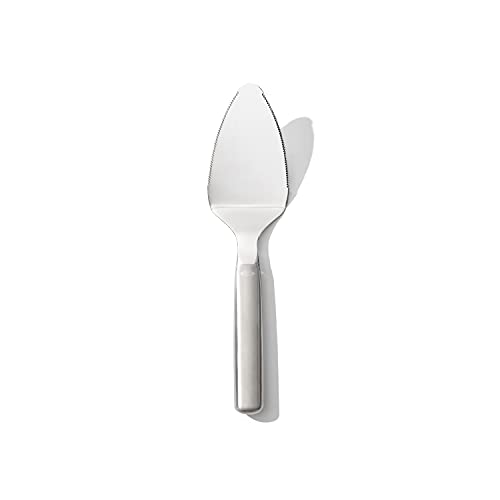 OXO Steel Pie Server
Serrated edges on both sides for left- and right-handed home
cooks
Flexible-yet-sturdy head can easily slide under food and lift it
Great for cake, pie, quiche, pizza, and more
Sleek stainless steel handle feels comfortable in your hand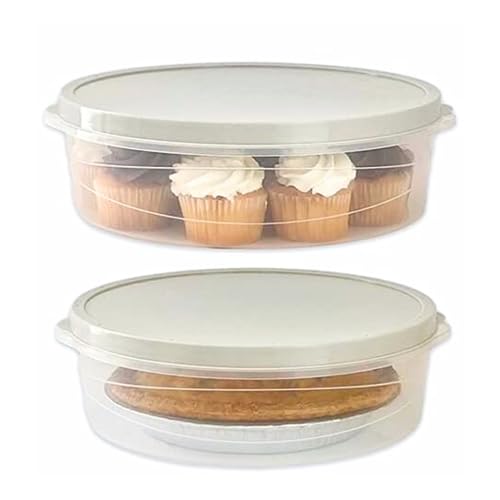 ENVIRONMENTALLY FRIENDLY: Evelots set of 2 reusable pie carriers can be used again and again. A better alternative to disposable trays, no waste. Each pie container with lid is made of thick and durable BPA-free plastic
PORTABLE: Each pie keeper has a strong seal to secure the dome and lid for a spill-proof transportation container.
VERSATILE: The pie keepers can be used two ways: use the clear dome as a cover for cakes and pastries, flip it over and use as pie holder. They are great for outdoor picnics, holiday parties, car travel, and busy kitchens.
LARGE CAPACITY: Also great for cupcakes and muffins. Dishwasher safe, can be stored in a fridge or freezer
From our Vermont home to yours: For over 10 years, Evelots has offered customers unique products with a 30-day easy return policy.
Remember that directions for homemade pie recipes vary so always refer to your specific recipe for any adjustments or additional steps. With practice, you'll become more confident in baking the best homemade pies and homemade pie crusts. Enjoy your homemade pies!
Blueberry pie has a long and delicious history in North America. Here's a brief overview of its origins and development:
Native American Roots: Blueberries are native to North America and have been a staple in the diet of Indigenous peoples for centuries. Native Americans used blueberries in a variety of dishes, including pemmican (a mixture of dried meat, fat, and berries) and various types of bread and pudding.
Colonial Era: European settlers in North America adopted many Indigenous culinary traditions, including the use of blueberries. Blueberry pie likely evolved from early colonial recipes that incorporated blueberries into pies and tarts.
19th Century: As settlers moved westward in the United States, blueberry cultivation spread. Wild blueberries were a common sight in many parts of the country, and they were often used in desserts. However, it wasn't until the 19th century that blueberry pie recipes started to appear in cookbooks.
Commercial Cultivation: The late 19th and early 20th centuries saw the development of cultivated blueberry varieties, making it easier to grow blueberries for commercial purposes. This led to an increase in the availability of blueberries and the popularity of blueberry pie.
The 20th Century: Blueberry pie gained significant popularity in the 20th century. It became a staple of American cuisine, especially in the Northeastern United States, where wild blueberries were abundant. The state of Maine, in particular, became known for its blueberry production and blueberry festivals.
Blueberry Pie Variations: Over the years, various regional and personal variations of blueberry pie have emerged. Some recipes add lemon zest or juice for a tangy twist, while others incorporate spices like cinnamon or nutmeg. Some versions have a lattice crust on top, while others use a crumb topping.
Iconic Status: Blueberry pie has become an iconic American dessert, often associated with summertime and patriotic celebrations like the Fourth of July.
Today, blueberry pie remains a beloved dessert across the United States and beyond. It is often served with a scoop of vanilla ice cream or a dollop of whipped cream for an extra touch of indulgence. Whether made with wild or cultivated blueberries, this pie continues to be a symbol of the sweet and comforting flavors of homegrown goodness.