Do you love cooking and baking with your cast iron skillet? Here is a quick delicious cast iron skillet brownie recipe.
Cast iron skillet brownies are a delicious and rustic twist on traditional brownies. Cooking your giant brownie in a cast iron skillet gives it a crispy, caramelized exterior while keeping the inside soft and gooey. A cast iron skillet brownie, often referred to as a "skillet cookie" or "piezookie," is a delightful dessert that's easy to make and perfect for sharing. Here's a basic recipe to make one:
Ingredients For CAST IRON Brownies
all-purpose flour – make sure you properly measure the flour. Do not pack, just level the top off with a flat knife.
salt – cut the salt in half if using salted butter in this recipe
butter – you can use salted or unsalted, cut salt amount in half if using salted butter
sugar – granulated sugar and brown sugar
eggs
vanilla extract – Real vanilla has so much delicious flavor
cocoa powder-dark or milk chocolate
chocolate chips 
walnuts or other nuts (optional)
Click here for information on the benefits of cooking with cast iron
Here are some kitchen items that will help to make your Cast Iron Skillet Brownie Baking easier: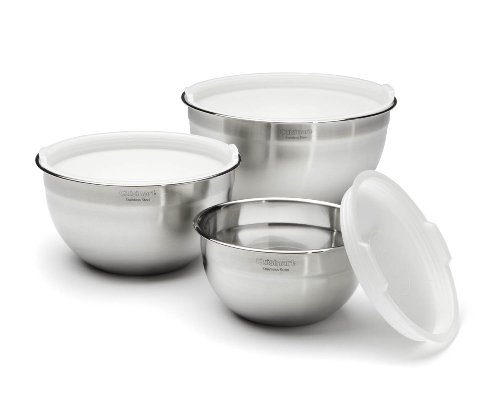 Cuisinart stainless steel mixing bowls nest to save space and have lids to store leftovers in the refrigerator or freezer. Three sizes handle any task that requires a bowl.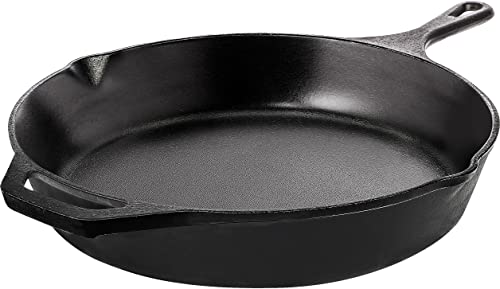 These Cast iron skillets are suitable for both stovetop and oven for evenly cooking variety of different meals; Cast iron cookware is less smoother than the Non-Stick cookware
Hand wash before first use and dry immediately; rub with a light coating of vegetable oil after every wash
Iron deficiency is fairly common worldwide especially among women so cooking food in a cast iron skillet can increase iron content by as much as 20%
Its superior heat retention will keep your mouth watering food warm for a long time
All Measuring Cups & Measuring Spoons sizes are included in one set!
1/4 Cup(60 ML), 1/3 Cup (90 ML)
1/2 Cup (120 ML), 1 Cup (240 ML)
1/8 tsp (0.63 ML), 1/4 tsp (1.25 ML)
1/2 tsp (2.5 ML), 1 tsp (5 ML)
1/2 tbsp (7.5ML), 1 tbsp (15 ML)
---
---
Cast Iron Skillet Brownie Recipe
Ingredients:
1 c butter
1 cup white sugar
3/4 cup light brown sugar
4 large eggs, room temperature
2 t pure vanilla extract
1 cup  all-purpose flour
1 cup unsweetened cocoa powder (Milk chocolate or Dark)
1 teaspoon salt
Optional add-ins for your cast iron skillet chocolate chip cookie recipe:
1 cup bittersweet chocolate chips
1/2 cup chopped walnuts or (other nuts)
Instructions:
Preheat oven to 350°F . Place a 10″ cast-iron skillet on the stovetop over low heat.
Add in butter and allow to melt gently without bubbling. Once melted remove from the heat, you don't want the pan to be too hot or it will cook the eggs when you add them.
Stir in the white and brown sugar.
Stir in flour, cocoa powder, and salt and mix until you have a smooth brownie batter. Don't beat too much or your brownies will be tough.
Add in the chocolate chips and nuts. Spread the brownie batter evenly into the skillet and make it look pretty by sprinkling a few extra chocolate chips and chopped nuts on top.
Bake for 25 minutes  Note: The skillet more heat than a baking dish so once you remove it from the oven the brownies will actually continue to cook so you don't want to overcook. While the brownie cools it will set up and be the perfect fudgy consistency.
Once slightly cooled, top with vanilla ice-cream or fresh whipped cream and enjoy!
Enjoy your delicious cast iron skillet brownie!
Click here for the best cast iron skillet cinnamon roll recipe: