Homemade chicken noodle soup is a comforting and nutritious dish that's perfect for a cozy meal, especially during cold weather or when you're feeling under the weather. Here's a basic recipe to get you started:
Ingredients:
For the best homemade chicken noodle soup:
1 whole chicken (about 3-4 pounds) You can use individual pieces of chicken as well.
8 cups of water (or more)
1 onion, chopped
4 carrots, sliced (can use baby carrots instead)
3 cloves garlic, minced
1 bay leaf
1 T oregano
Salt and pepper to taste
Fresh chopped parsley for garnish

For the Noodles:
2 1/2 cups of egg noodles or homemade egg noodles
Click here for an easy homemade egg noodles recipe
Instructions:
Prepare the Chicken: If using a whole chicken, remove the giblets and rinse the chicken under cold water. Place it in a large pot along with 8 cups of water. Bring the water to a boil, then reduce the heat to low, cover, and simmer for about 45 minutes to 1 hour until the chicken is cooked through and tender.
Skim the Broth: As the chicken cooks, you'll notice foam and impurities rising to the surface. Skim off any foam with a spoon to keep the broth clear.
Remove and Shred the Chicken: Once the chicken is cooked, remove it from the pot and let it cool slightly. Then, shred the meat into bite-sized pieces. Discard the skin and bones.
Strain the Broth: Strain the chicken broth into a clean pot to remove any remaining impurities. You now have a clear chicken broth.
Add Vegetables: Return the strained broth to the stove and add the chopped onion, carrots, celery, minced garlic, bay leaf, and any optional vegetables you want to include. Simmer for about 10-15 minutes or until the vegetables are tender.
Cook the Noodles: In a separate pot, cook the egg noodles or pasta according to the package instructions until they are al dente. Drain and set aside.
Combine Soup and Chicken: Once the vegetables are tender, add the shredded chicken to the pot and heat it through for a few minutes.
Season: Season the soup with salt and pepper to taste. You can also add a squeeze of lemon juice for a touch of acidity.
Serve: Ladle the best homemade chicken noodle soup into bowls, adding a portion of cooked noodles to each bowl. Garnish with fresh herbs if desired.
Enjoy the best homemade chicken noodle soup! It's a classic comfort food that's sure to warm you up and make you feel better if you're under the weather.
Here are some items that can help with making the best homemade chicken noodle soup: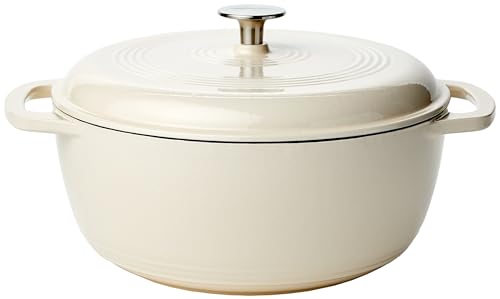 Enameled Cast Iron Covered Round Dutch
Dutch oven in White; ideal for roasting, baking, sautéing, cooking, and more
Heavy-duty cast iron retains heat well and distributes it evenly; smooth enamel finish provides lasting strength
Oven safe up to 400 degrees F
Medium 6-quart capacity serves 4-6 people; perfect for tossing pasta, frying chicken, or making soup
Hand wash only; avoid metal utensils and wash in warm, soapy water for best results; avoid citrus-based cleaners
Looped side handles for easy lifting; fitted lid traps in heat and moisture for enhanced results
Product Dimensions: 13.5 x 11 x 4.7 inches (LxWxH)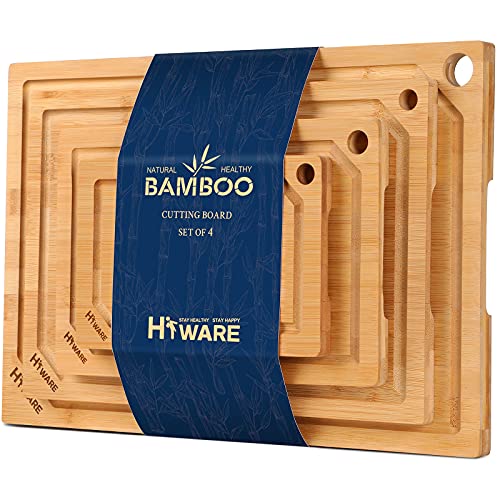 LARGER THICKER AND MORE THAN OTHERS: Extra large size: 18″ x 12″ x 0.8″, large size:15″ x 10″ x 0.6″, medium size:12″ x 8″ x 0.6″, small size: 9″ x 6″ x 0.6″, 4 different sizes are available for you to choose according to different use requirements. More boards and each is larger and thicker than others in this set.
KNIFE-FRIENDLY SURFACE: The very flat surface causes no damages to the knife like cracks or dullness. Treated with edible oil, the smooth cutting board will not make the blade worse, and there will be no scratches and marks on the board.
SUPERB CRAFTSMANSHIP: Exquisite craft makes this cutting board very durable and strong, but not overly thick. After meticulous polishing, it is very smooth and extremely flat, without any burrs, cracks, splinters, etc.
JUICE GROOVE & INNER HANDLE DESIGN: Surrounded built-in juice groove is close to the edge to maximize the cutting area while perfectly catch excess liquids without overflow to the countertop, meanwhile the grooves are not too narrow to clean. The inner handles are on the back taking no cutting areas and branding space doesn't take up much space, as well as the hanging hole.
NATURAL ORGANIC BAMBOO: Made from natural organic bamboo which is environmentally friendly and food safe, strong and resilient, ideal for slicing bread, fruits, vegetables, meats, steaks, cheeses, or as a serving tray.
REMIUM AND DURABLE QUALITY: We have designed our soup ladle with heavy-duty 201 stainless steel that is polished for an elegant mirror finish. This sturdy stainless steel ladle is food-grade, heat-resistant, and rust-resistant, making it perfect for your everyday scooping needs.
ERGONOMICALLY DESIGNED: Built with a balance of strength and comfortability, this ladle comes with a long handle that provides a unique contour for thumb rest and a secure-non slip grip. The ladle head is designed to easily delve into deep pans and spoon large portions for your family. The handle measures 12" long, and the bowl is 3.25" in diameter and 1.37" deep.
FUNCTIONAL AND VERSATILE: This large soup ladle can be used to stir or serve delicious homemade stews, chili, spaghetti sauce, and soups or for pouring punch in a cup. The sleek construction makes it an amazing gift for your friends or family members who love to cook delicious meals. Our gravy ladle is ideal for both home and professional use.
EFFICIENT CLEANUP AND STORAGE: After you are done enjoying a delicious meal, this stainless steel soup ladle can be tossed in the dishwasher or hand washed in the sink for a quick and easy cleanup. The built-in hole in the handle can be used for convenient storage.
HASSLE-FREE, ZULAY GUARANTEE: We love and take pride in our kitchen ladle and back this up with a lifetime guarantee. If there are ever any issues, just contact us and we will make it right. Chances are that this will soon become your favorite kitchen utensil.