Are you looking for the best quick and easy Trader Joe's dinner options?
Trader Joe's is known for its wide variety of convenient and quick meal options. "Best" Trader Joe's finds can be quite subjective since everyone's preferences vary. However, here are some highly regarded and popular items that many people consider to be standout products for quick, easy Trader Joe's dinner options:
1. Trader Joe's Dinner Options for Frozen Meals:
Mandarin Orange Chicken: Crispy chicken with a tangy orange sauce that's a favorite among many for its convenience and taste.
Chicken Fried Rice: Frozen fried rice with chunks of chicken, vegetables, and soy sauce.
Vegetable Pad Thai: A frozen vegetable and noodle dish with a flavorful Pad Thai sauce.
Cauliflower Gnocchi: A healthier alternative to traditional gnocchi, made with cauliflower.
Frozen Cauliflower Rice: A convenient option for adding vegetables to your meals, whether you're making stir-fries, grain bowls, or fried rice.
Frozen Cauliflower Pizza Crust: A gluten-free pizza crust option made from cauliflower that can be topped with your favorite ingredients. Check out the "pizza cooler area" for sauces, cheese and toppings!
Frozen Mac 'n Cheese Bites: Bite-sized macaroni and cheese bites that are perfect for snacking or as a side dish.
2. Trader Joe's Dinner Options for Salad and Salad Kits:
Southwest Salad Kit: Includes mixed greens, corn, beans, tortilla strips, and a spicy dressing.
Caesar Salad Kit: Romaine lettuce, croutons, parmesan cheese, and Caesar dressing.
Lemon Basil Pasta Salad: A refreshing pasta salad with lemon basil dressing.
Spicy Mango Salad Dressing: A zesty and slightly spicy dressing that adds a unique flavor to salads.
3. Trader Joe's Dinner Options for Pasta and Sauces:
Organic Brown Rice and Quinoa Fusilli Pasta: Gluten-free pasta option made from brown rice and quinoa.
Cauliflower Gnocchi: These gnocchi are made with cauliflower instead of traditional potato, offering a lower-carb alternative.
Gnocchi alla Sorrentina: Potato gnocchi with tomato sauce and mozzarella cheese.
4. Trader Joe's Wraps and Sandwiches:
Turkey and Cranberry Apple Wrap: A wrap with turkey, cranberry apple chutney, and spinach.
Chicken Caesar Wrap: Grilled chicken, romaine lettuce, parmesan cheese, and Caesar dressing in a wrap.
5. Trader Joe's Snack Options:
Mini Chicken Tacos: Bite-sized chicken tacos that are perfect for a quick snack.
Mini Vegetable Samosas: These Indian-style appetizers are filled with spiced vegetables.
Cheese and Charcuterie Box: A convenient selection of cheeses, meats, and crackers for a quick snack or light meal.
Cowboy Caviar: A flavorful dip made with black beans, corn, peppers, and more. It's great with tortilla chips or as a topping for grilled meats.
Cookie Butter: A sweet spread made from speculoos cookies that's perfect for spreading on toast, pancakes, or using as a dip for fruit.
Trader Joe's Pita Chips: A crunchy and savory snack that's great for dipping into hummus or other spreads.
6. Trader Joe's Dinners Options for Soups:
Tomato Soup: Creamy tomato soup that pairs well with grilled cheese.
Organic Miso Ramen: A quick and satisfying ramen option with miso broth.
7. Trader Joe's Dinner Options for Refrigerated Meals:
Chicken Shawarma Wrap: A wrap filled with chicken shawarma, hummus, and veggies.
Quiche Lorraine: A classic quiche with bacon, Swiss cheese, and custard filling.
Caprese Salad: Fresh mozzarella, tomatoes, and basil drizzled with balsamic glaze.
8. Trader Joe's Sushi:
Assorted Sushi Rolls: Trader Joe's offers a variety of sushi rolls, including California rolls and spicy tuna rolls.
9. More items: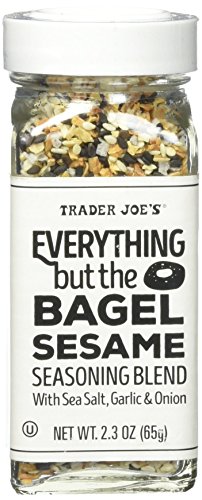 Dark Chocolate Peanut Butter Cups: A popular treat that combines creamy peanut butter and rich dark chocolate.
Honeycrisp Apple Cider:** A seasonal favorite known for its crisp and sweet flavor, often available during the fall.
Joe-Joe's Cookies: Trader Joe's version of Oreo cookies, available in various flavors like original, chocolate-filled, and seasonal varieties.
Triple Ginger Snaps: A popular ginger cookie with a strong ginger flavor that's both sweet and spicy.
Remember that Trader Joe's often introduces new products, so the availability of specific items for quick Trader Joe's dinner options may vary over time and by location. Always check your local store for the most up-to-date offerings.
21 Seasoning Salute by Trader Joe's
Popular favorite spice blend created by Trader Joe's. This spice mix does NOT contain salt but offers a smooth blend most other popular spices including onion, black pepper, celery seed, cayenne pepper, parsley, basil, marjoram, bay leaf, oregano, thyme, savory, rosemary, cumin, mustard, coriander, garlic, carrot, orange peel, tomato, lemon juice and lemon oil.