Are you looking for the best homemade pie crust recipe and techniques?
Baking the best homemade pie crust requires attention to detail and some key techniques. Here are tips to help you achieve a perfect pie crust every time:
Use Quality Ingredients:
Start the best homemade pie crust with fresh, high-quality ingredients. Use cold unsalted butter or vegetable shortening for a flaky and tender crust.
Keep Everything Cold:
Cold ingredients are essential for a flaky crust. Chill your butter, shortening, and even the flour if possible. Some bakers even freeze their flour for a short time before using it.
Measure Accurately:
Use a kitchen scale to measure your flour and fats accurately. Baking is a precise science, and accurate measurements matter.
Don't Overwork the Dough:
Overworking the dough can lead to a tough crust. Mix the ingredients until they just come together, and don't knead or handle the dough too much.
Add Ice Water Gradually:
When adding water to your dough, do it one tablespoon at a time. You want to add just enough water for the dough to hold together.
Use the Right Flour:
All-purpose flour is commonly used, but some bakers prefer pastry flour for a more delicate texture. Experiment to find your preference for the best homemade pie crust.
Choose the Right Fat:
Butter adds great flavor, while vegetable shortening contributes to flakiness. A combination of both can give you a balance of flavor and texture.
Consider Vinegar or Vodka:
Some bakers add a small amount of vinegar or vodka to the dough. These liquids inhibit gluten formation, resulting in a more tender crust. Use about 1-2 tablespoons for a standard pie crust.
Rest the Dough for the best homemade pie crust:
Let the dough rest in the refrigerator for at least 30 minutes before rolling it out. This allows the fats to solidify and the gluten to relax, making it easier to work with.
Roll Evenly:

Roll the dough into a circle, turning it a quarter-turn after each roll to maintain an even thickness. Aim for about 1/8-inch to 1/4-inch thickness, depending on your preference.

Flour Sparingly:

Use only enough flour to prevent sticking when rolling out the dough. Too much flour can make the crust dry and tough.

Ventilation for Double-Crust Pies:

If making a double-crust pie, cut slits or shapes in the top crust to allow steam to escape during baking. This helps prevent a soggy bottom crust and makes the best homemade pie crust.

Egg Wash for Shine:

For a shiny, golden-brown crust, brush the top with an egg wash (a beaten egg or egg yolk mixed with a little water).

Adjust Baking Temperatures:

Follow your pie recipe's instructions for baking temperatures and times. Lower temperatures (around 375°F or 190°C) often result in better crusts as they allow the fats to create flakiness without overbrowning.

Use a Pie Shield or Foil:

If the edges of your pie crust start to brown too quickly, cover them with a pie shield or strips of aluminum foil to prevent overbrowning.

Cool Properly:

Allow your pie to cool completely on a wire rack before slicing. Cutting into a hot pie can cause the filling to run.
Remember that practice makes perfect when it comes to the best homemade pie crusts. Don't get discouraged if your first attempts aren't flawless. With experience, you'll become more skilled at creating beautiful and delicious pie crusts for all your favorite pies.
Here are some items that can help with making the best homemade pie crust: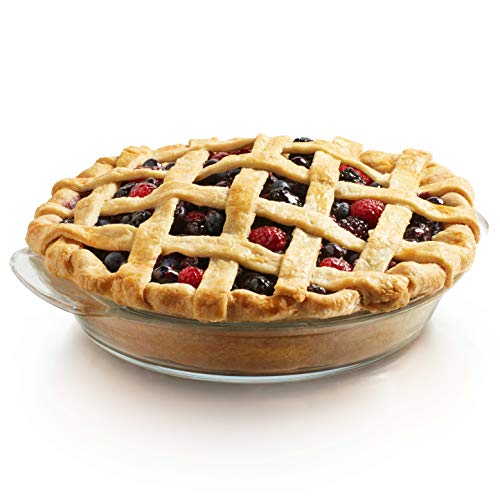 Revolutionary glass construction makes these versatile 1.4-quart deep pie plates safe for oven, microwave, refrigerator, and freezer; clear glass lets you monitor baking, serve your creation in style, and see inside while stored
Only stackable bakeware on the market
Includes 2, 9-inch by 1.6-inch glass deep pie plates
Lead-free
Extremely durable and dishwasher safe for quick, easy cleanup; to help preserve your products, please refer to the Libbey website for care and handling instructions
Baker's Premium 2-Piece Glass Pie Plate Set (9-inch)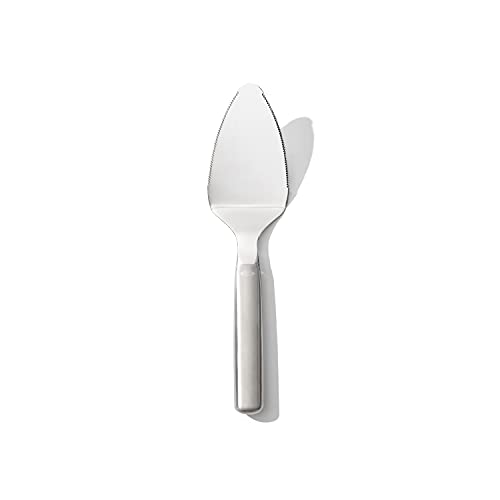 OXO Steel Pie Server
Serrated edges on both sides for left- and right-handed home
cooks
Flexible-yet-sturdy head can easily slide under food and lift it
Great for cake, pie, quiche, pizza, and more
Sleek stainless steel handle feels comfortable in your hand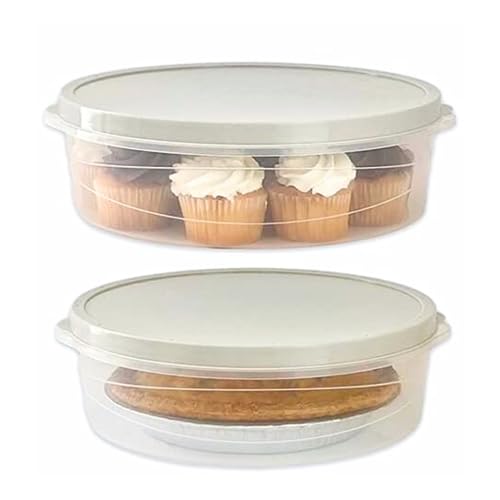 ENVIRONMENTALLY FRIENDLY: Evelots set of 2 reusable pie carriers can be used again and again. A better alternative to disposable trays, no waste. Each pie container with lid is made of thick and durable BPA-free plastic
PORTABLE: Each pie keeper has a strong seal to secure the dome and lid for a spill-proof transportation container.
VERSATILE: The pie keepers can be used two ways: use the clear dome as a cover for cakes and pastries, flip it over and use as pie holder. They are great for outdoor picnics, holiday parties, car travel, and busy kitchens.
LARGE CAPACITY: Also great for cupcakes and muffins. Dishwasher safe, can be stored in a fridge or freezer
From our Vermont home to yours: For over 10 years, Evelots has offered customers unique products with a 30-day easy return policy.
Baking the best homemade pie crust can be a bit challenging, but with the right technique and some practice, you can achieve a delicious, flaky crust that complements your pie filling. Baking the best pie crust requires attention to detail and some key techniques. Here is a recipe and tips to help you achieve a perfect pie crust every time:
Ingredients:
For a standard 9-inch pie crust:
1 1/4 cups all-purpose flour
1/2 teaspoon salt
1/2 cup (1 stick) cold unsalted butter, cubed
2-4 tablespoons ice water
Chill Your Ingredients: It's essential to keep everything cold to achieve a flaky crust. Cube the butter and place it in the freezer for about 15 minutes. Additionally, chill a mixing bowl and your flour in the refrigerator for 15 minutes.
Mix the Dry Ingredients: In the chilled bowl, combine the all-purpose flour and salt. You can also add a teaspoon of sugar if you prefer a slightly sweet crust for dessert pies.
Cut in the Butter: Add the cold, cubed butter to the flour mixture. Use a pastry cutter, two knives, or your fingertips to cut the butter into the flour until the mixture resembles coarse crumbs. The butter should be in pea-sized pieces.
Add Ice Water: Drizzle 2 tablespoons of ice water over the mixture and gently stir with a fork. Add more ice water, one tablespoon at a time, until the dough begins to come together. You want the dough to be just moist enough to hold together when pressed.
Form the Dough: Turn the dough out onto a lightly floured surface and gently knead it a few times until it comes together into a ball. Be careful not to overwork the dough; you should still see visible bits of butter.
Chill the Dough: Flatten the dough into a disk, wrap it in plastic wrap, and refrigerate it for at least 30 minutes. This rest allows the gluten to relax and the dough to firm up.
Preheat the Oven: While the dough is chilling, preheat your oven to the temperature specified in your pie recipe.
Roll Out the Dough: On a floured surface, roll out the chilled dough into a circle about 12 inches in diameter, large enough to fit your pie pan with some overhang.
Transfer to the Pie Pan: Carefully lift the rolled-out dough and gently place it into your pie pan. Press it into the bottom and sides, being careful not to stretch the dough.
Trim and Crimp the Edges: Trim any excess dough that hangs over the edge of the pie pan, leaving about a 1-inch overhang. You can then fold the overhang under itself and create a decorative edge by crimping it with your fingers or using a fork.
Chill Again (Optional): You can choose to chill the pie crust in the freezer for about 15 minutes before filling and baking. This helps prevent the crust from shrinking during baking.
Blind Bake (Optional): Depending on your pie recipe, you may need to blind bake the crust. To do this, line the crust with parchment paper and fill it with pie weights (or dried beans). Bake in the preheated oven for about 15 minutes, then remove the weights and parchment and continue baking until the crust is golden brown. Follow your specific pie recipe for blind baking instructions.
Fill and Bake: Once your pie crust is ready, add your desired filling, and follow your pie recipe for baking times and temperatures.
Remember that pie crusts can vary depending on the type of pie you're making, so always refer to your specific recipe for any adjustments or additional steps. With practice, you'll become more confident in baking perfect pie crusts. Enjoy your homemade pies!
Click here for the best homemade apple pie recipe