Here are some of the best pantry staples to keep on hand:
Pantry staples are essential food items and ingredients that you should keep stocked in your kitchen to facilitate cooking and ensure you have a variety of options for meals. Maintaining a well-stocked pantry can save you time and money, as you'll be prepared to whip up meals without having to run to the store constantly.
Pantry Staples Include:
Grains and Cereals:
Rice (white, brown, or other varieties)
Pasta (various shapes and types)
Quinoa
Oats (old-fashioned or quick-cooking)
Flour (all-purpose, whole wheat, etc.)
Canned Goods:
Canned vegetables (e.g., tomatoes, corn, beans)
Canned fruits
Canned soups
Canned tuna or salmon
Beans and Legumes:
Dried beans (e.g., black beans, chickpeas, lentils)
Canned beans (for convenience)
Cooking Oils:
Olive oil
Vegetable oil
Coconut oil
Vinegars:
White vinegar
Apple cider vinegar
Balsamic vinegar
Herbs and Spices:
Salt and pepper
Garlic powder
Onion powder
Paprika
Cumin
Oregano
Basil
Thyme
Rosemary
Red pepper flakes
Bay leaves
Sweeteners:
Sugar (white and brown)
Honey
Maple syrup
Condiments:
Ketchup
Mustard
Mayonnaise
Soy sauce
Worcestershire sauce
Canned Sauces and Pastes:
Tomato sauce or crushed tomatoes
Tomato paste
Peanut butter
Baking Essentials:

Baking powder
Baking soda
Yeast (for bread baking)
Vanilla extract
Chocolate chips

Nuts and Seeds:

Almonds
Walnuts
Peanut or almond butter
Chia seeds
Flaxseeds

Dried Herbs:

Parsley
Dill
Bay leaves
Thyme

Canned or Powdered Milk:

For baking or emergencies

Broth or Stock:

Chicken, beef, or vegetable broth

Ramen or Noodles:
Cereals and Breakfast Items:

Breakfast cereals
Oatmeal
Pancake mix

Onions and Garlic:

Fresh or dried garlic and onions

Potatoes and Sweet Potatoes:

These can last a while if stored properly.

Frozen Vegetables:

Frozen peas, corn, spinach, and more for convenience.

Canned or Jarred Pasta Sauce:

A quick base for pasta dishes.

Canned or Jarred Salsa:

For a quick dip or topping.
Remember to periodically check your pantry staples for expired items and replenish them as needed. Having these pantry staples on hand can make it easier to prepare a wide range of meals, even on busy days or when you can't make it to the grocery store.
Here are some organization ideas for your pantry staples: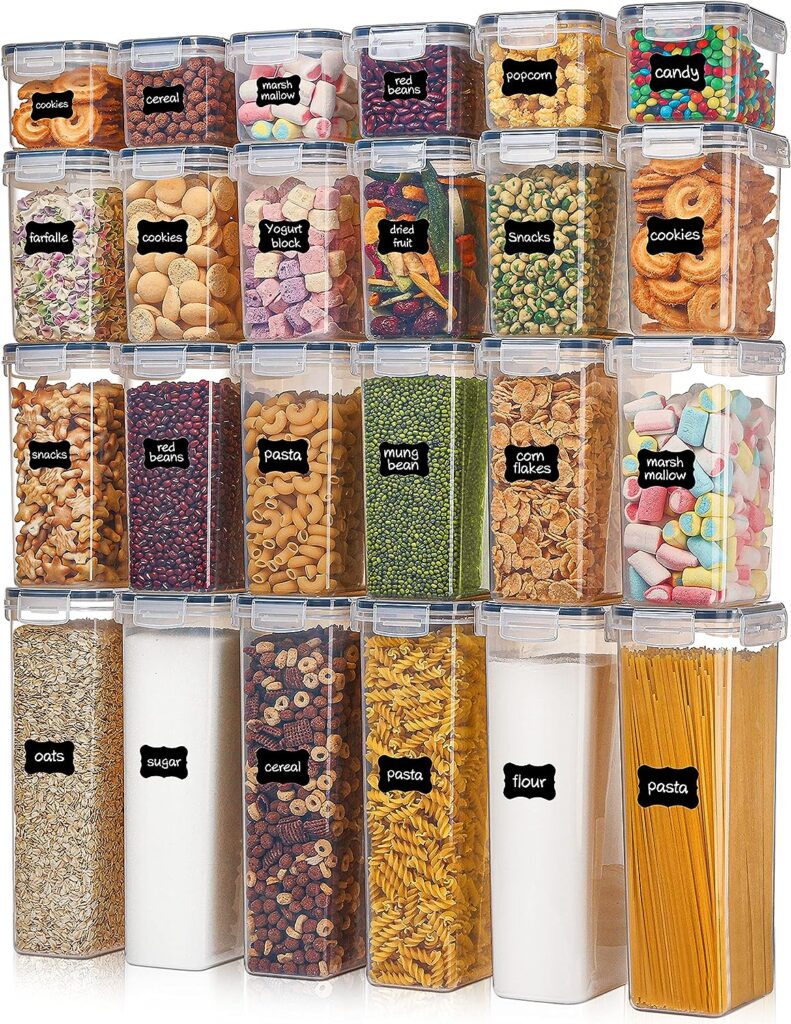 Pantry Staples Storage Containers
Our kitchen storage container set comes in 4 different sizes. Perfect for storing pantry staples like spaghetti, baking supplies, cereal, flour, sugar, oats, pasta, rice, coffee, tea, snacks, nuts and other things.
6 Tall Container (2.5quart / 2.8 liters)
6 Tall Container (1.8quart / 2.0 liters)
6 Medium Containers (1.5quart / 1.6 liters)
6 Small Containers (0.7quart/0.8 liters)
24 Chalkboard Labels
8 Piece Pantry Staples Organizer Bins Set: Each storage bin measures 12.5'' L x 6.3" W x 3.5" H. Use these clear fridge storage bins make your pantry or fridge organized and neat and gain much more space.
Making Storage More Easier: These sturdy, medium capacity bins are great for creating a clean and organized refrigerator or pantry. So easy to keep clean and contain spills.
2 Pack Pull Out Spice Rack
Are you still worried about the messy seasoning bottles in the pantry, or tired of not being able to find anything in a mess of jars and bottles? These slide out spice racks are the perfect solution for you to organize your pantry staples and allow easy access to all your spices. Each tier can hold 10 small spice jars
Stocking with pantry staples effectively involves careful planning and organization to ensure you have a variety of essential ingredients on hand for cooking and meal preparation. Here are steps to help you stock a pantry:
Assess Your Needs:
Take inventory of your current pantry items. Check expiration dates and dispose of any expired or spoiled items.
Consider your dietary preferences and any dietary restrictions. This will influence the types of items you need to stock.
Create a Pantry List:
Make a list of pantry essentials you regularly use or would like to have on hand. This includes grains, canned goods, cooking oils, herbs, and spices, among others.
Set a Budget:
Determine how much you're willing to spend on stocking your pantry. Stick to your budget to avoid overspending.
Organize Your Space:
Make sure your pantry space is clean, dry, and organized. Consider using shelves, baskets, or clear containers to keep items visible and accessible.
Group similar items together. For example, keep all canned vegetables in one area, and grains in another.
Purchase Staples:
Start with the basics. Purchase items that form the foundation of many recipes, such as rice, pasta, flour, canned tomatoes, and cooking oils.
Buy items in bulk when it makes sense to save money. For instance, buying a larger bag of rice or a multipack of canned goods can be more cost-effective.
Remember that building a well-stocked pantry is an ongoing process. You can gradually add items to your pantry over time as your cooking skills and preferences evolve. It's also a good idea to customize your pantry based on your family's specific tastes and dietary requirements.